Giving BLACK BUSINESSES the recognition they deserve!
From entertainment, to auto shops, to restaurants, we want to help you discover all the black-owned businesses that provide the services/products you need, keeping our dollar in OUR communities, and building us up as a people.
To Search our Network, use our "Search Bar" in the bottom right corner OR Click Here!
Are YOU a Black Business Owner?
JOIN THE NETWORK FREE

!
Help others discover and interact with you & your business, when you join our Network of Black Business Owners!
When You Join the Black Dollar Network...
(Oh yes, there's Perks)
You will be welcomed with open arms and INSTANTLY become family! Not only will your business be in a space of national support, you'll also receive a Network welcome package with a "Black Business Owner" T-shirt, Hoodie, Mug and Poster, customized the best way possible on our directory, but you will also receive a network welcome package with a Black Dollar "Black Business Owner" T-shirt, Hoodie, Mug, and Poster, customized with your business name! with your business' name! We will be conducting Chapter meetings/events to Network amongst each other, and continue to grow your businesses/brands together!
Who Are We?
Glad you asked...
We are a Black Founded Organization that creates resources for Black Business Owners. This very platform is a free to use Network that connects consumers with Black Owned Businesses, and displays every Black Owned Business that is apart of the Network (and that we discover/spend Black Dollars with ourselves).
One of our main objectives is to ensure that Black Businesses can be openly represented for others to view & support, bringing wealth and positive networking within the Black Communities. The Black Dollar Network is also an advantageous way for Black Businesses to interact with & support each other (Ex. Black-owned catering company buying food/supplies from black-owned food wholesalers/grocery store

Your Title Goes Here
Enter subtitle here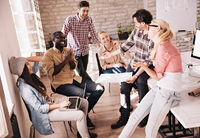 This is where your text starts. You can click here to start typing. Sed ut perspiciatis unde omnis iste natus error sit voluptatem accusantium doloremque laudantium totam rem aperiam eaque ipsa quae ab illo inventore veritatis et quasi.
Ea commodi consequatur quis autem vel eum iure reprehenderit qui in ea voluptate velit esse quam nihil molestiae consequatur vel illum qui dolorem eum fugiat quo voluptas nulla.